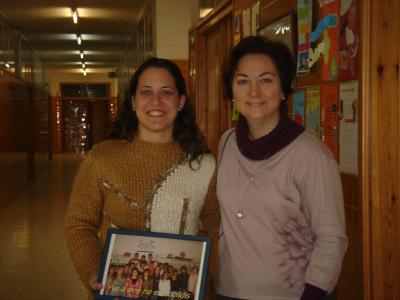 Eve and I with the present she gave me (with 2nd ESO C students).
My last day.
As I went to the school to hand in my memorial, I attended "my" class, 2nd ESO C. They have done a vocabulary exam and then they have worked on their pathways while listening to Christmas songs.
But..., after doing the exam and before their autonomous work, Eve (my tutor) gave me a present of the whole class, a photograph of all them!!! I am so grateful to all them!
I said goodbye to everybody, to all teachers... and I left that secondary school, those students and those teachers who have contributed a lot in my professional life and my personal life, too.
THANK YOU VERY MUCH!!! I will not forget you.