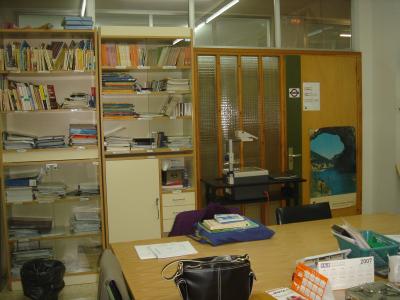 Picture: Language Department.
On Tuesday the 30th October I had my first contact with the secondary school where I will be until Christmas doing the practicum. It is far from Terrassa, where I live, and for this reason I went out home three hours before the meeting hour. My tutor from the school had explained me the way to arrive there, so I knew how to go there and this facilitated me the journey.
Arriving at the school wasn't difficult. I was a little bit excited and nervous, because I knew anything about that school. However, all staff of the school welcomed me and I felt comfortable and well-received.
I had to wait a little bit for my tutor (Eve) because she was in class; and when she came she showed me the secondary school and presented me other teachers and all the staff working there. I was grateful for that, because this made me feel another teacher, not only a 'visitor' or a teacher trainee like many others can be.
After speaking a little bit about the school, my practicum, the methodology, what I was supposed to do..., she invited me to go a class, 1st ESO D. She presented me and I observed the classroom, the course, students... There was a lot to look at!
I left the school with a good taste in my mouth. My first day at the secondary school encouraged me to make my best there these two months I will be there.