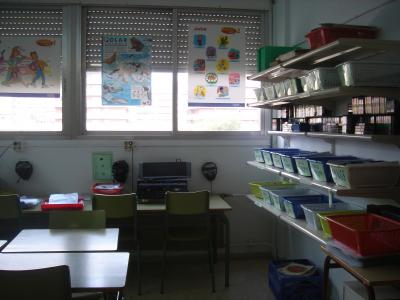 This secondary school has two specialized language classrooms: a language laboratory and a self-access room.
The language laboratory consists of ten computers communicated between them, with headphones and a machine like an scanner, which is used for the teacher in order to show students papers, pages of a book she is reading, etc. This language laboratory is part of a language project of the school, and teachers have formation about it and they also train other secondary school teachers.
The self-access room is composed by individual tables composed in groups of four or five in the middle of the classroom and the teacher's table. All around these tables there are a lot of material and didactic resources: six audiocassettes, a television, videos, posters, books, magazines, dictionaries, (offered by editorials), encyclopaedias, and a lot of pigeon holes with all types of material (listening exercices and cassettes, reading exercices (true/false), grammar, cloze, writing, speaking/communication tasks, dialogues, partial dictation, pictures, games, puzzles, songs, etc.
Language courses have another important resource, a personal resource: the secondary school has contracted a language assistant (an Irish man), who will offer conversational classes in all courses.