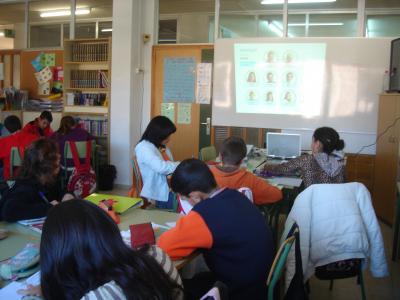 In this course we have also started pathway learning 2 today. We have introduced the vocabulary of the unit (members of the family) and the grammar review (present simple affirmative).
In order to do it, Eve has explained the contents with a Power Point presentation (as we can see in the picture on the top). It was a family tree with pictures and names, for the explanation, and then students had to say with member of the family was seeing only the picture. They knew all answers, I think they found it easy.
The grammar has been presented like the vocabulary, with a Power Point presentation for the explanation and they have copied the example (verb to live) on their notebooks. Some of them had remembered the "-s" in third person singular before reviewing it, so this is very good!
We dedicated the end of the class to explain them a contract they have to complete and sign in each unit in order to promise themselves and the teacher the work they are going to do in that unit (there is a minimum, compulsory, and a maximum, compulsory and optional exercises).