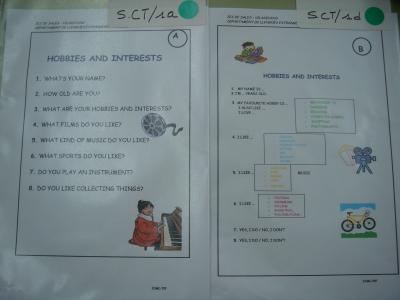 Today, as every day, I left home at 6 in order to arrive on time at the school. I went to 2nd ESO C at 09:10 and then at 1st ESO D at 11:40. All that students have finished their pathway learning and they have also done the speaking task: a dialogue about hobbies and interests.
This is another kind of self-learning activity. Students have to copy this dialogue (with more questions when higher the level is: starter, beginner and lower intermediate) and then study it in order to represent it in pairs in front of the class.
Today, moreover, we had two sessions with the language assistant, so students have gone to the English Department to speak with him, saying the dialogues.
I have recorded a dialogue in 2nd ESO C, but I cannot upload it here or in Youtube because of the restriction of image. I will show you those recordings in the oral presentation at the end of the practicum. I hope this is not a big problem.
In the picture you can see the worksheets of the dialogue. Starters and beginners did only questions 3 to 7, and lower intermediate did all the worksheet. They have learnt them by heart and they were successful in it.